Each year, the Chairman's Award recognizes a Market Partner who has been nominated by their peers in the field as the MONAT Hero of the year.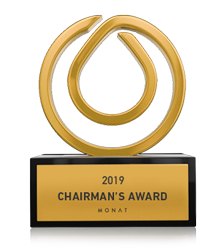 A MONAT Hero is someone who does more than lead a business and a team. This person is an inspiring leader who goes the extra mile in every respect. This person is a fixture in their community who volunteers their time, talent and resources toward noble causes and embodies what it means to be a Market Partner.
Nomination Period:
June 17 – August 10
The Chairman's Award winner will be announced at MONATions 2019 in Columbus, Ohio during our annual DREAM BIGGER GALA. The 2019 MONAT Hero will receive this prestigious award from our Chairman and be recognized in front of their fellow Market Partners.
Who is eligible to be a MONAT Hero?
Any active Market Partner in good standing who has achieved the career rank of Market Mentor or above.
What defines a MONAT Hero?
A MONAT Hero is more than a successful Market Partner. A MONAT Hero truly makes a difference the community and in the world.
Benevolence
Service
Leadership
Humility
Goodwill
Charity
Kindness to others
Community involvement
Giving spirit